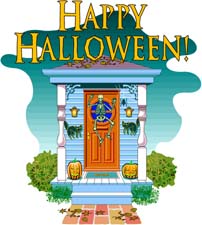 I went for a walk around my neighborhood last evening and realized everyone is starting to decorate for Halloween. Is it that time of year already!
When I got back I started snooping around the 'net to try and find some easy and fun Halloween crafts. I was impressed, there's a bunch out there and so many willing to share their great ideas.
Take for instance this great blog post that has a super tutorial on the cutest little paper mini pumpkins made from card stock.
If you need to snuggle up on Halloween the Coats and Clark site has a pattern for a Halloween Afghan with spooky black cats, bats and jack-o-lanterns to crochet. The directions are printable, the link is at the bottom of the page.
I love it when my issue of Country Living magazine comes in the mail. This month's issue was no exception. On their website they share several templates you can download and print to make wicked easy spooky bird silhouettes to cling to your windows.
There are 6 different bird themed Halloween crafts they've posted so make sure not to miss the others.
Last but not least, if you have a Michaels store in your area, they're having some great in-store events throughout October beginning on Saturday, October 8. Plus on their site you can sort the Halloween craft projects by the time it takes to do them, such as 0-30mins, 30mins all the way up to 60+minutes.
I think that's a great way to find a craft to do in the time you have available. I checked and there are 18 projects in my category of 0-30mins.
So have a ball, especially if you get to share this holiday with young children. It's so much fun!
* Picture courtesy of Webweaver Free Clipart
A huge collection of totally free clipart! No pop ups, trick links or registration required.